"Nine times nine" a projection of nine films from the
2013 Leiden Short Film Festival as a site specific installation
incorporating nine suspended objects.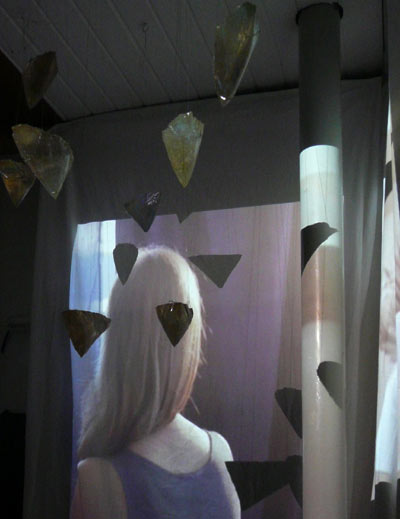 Our contribution to this event organized by Niek Hilkmann + Sandra Gnjatovic for the Leiden Short Film Festival Experience was to create three differing 'mediations.'

The performance "Through the window" by Carmen involved a painting of text in yellow over Hitchcock's film "Rear Window." Up to three visitors could sit back to back inside the installation "A Multi-vision mediation" where in turn they were observed from the outside of the branch dome. "Nine times nine" was set up so a larger number of viewers could watch the nine short films either standing or seated on the floor.

The event was also a premiere for two new films filmed on VHS by Niek Hilkmann + Sandra Gnjatovic as an ode to a bygone medium. The performance/installation "Through the window" was a play on mediation itself, where the performer painted words while the Hitchcock film was running on a VHS tape. It was as much a performance (or intervention), as it was a film showing (viewers could watch the film during the performance as well as afterwards), as it was a painting.

"Nine times nine" was also a crossing of media. The suspended objects and pole and drapped cloth interfered with the film projection forcing visitors to see the films as part of an installation.

The films shown here in a loop were:
1. 9 Times ( 4'22")
Animation by Sansculotte, a collective of artists, programmers and designers based in Berlin.
Music "9 Times" by AMIT, a UK based live Music Artist, Composer and Producer.

2. Bird of Flames (5'33")
by Chrysta Bell & David Lynch. Director: Chel White
Written by David Lynch and Dean Hurley. Performed by Chrysta Bell and David Lynch

3. Carbon (4'55")
by Dylan Ladds.

4. Between Regularity and Irregularity (7'20") by Tsutani Masahiro, Japan

5. Dawn of the Rainbow 1939 (2'41") by Katie Godwin, U.K.

6. CRJYKLCW (20') by Pierrick Servais, France

7. Dankumba (12'13") by Bakary Diallo, Mali

8. Threshold Economics (5' 53") by Hope Peterson, Canada

9. Behind The Window (13'58") by Nagham Abboud, Iran

More about "Through the Window" or "A Multi-vision Mediation"