Artists
Matt Pine | Michelle Backhouse | Deborah Stewart
Bryan Ramage | Sen McGlinn | Sonja van Kerkhoff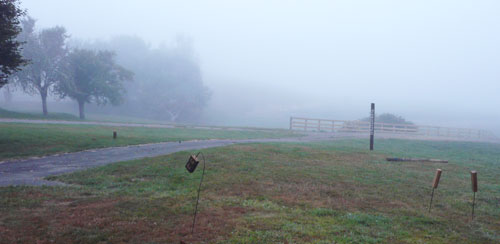 Details of an environment work made out of pairings of sculptural objects, banners and text by Matt Pine which was located around the farm house and surroundings.
Michelle Backhouse created a sculptural extension against a wall of the farmhouse from wire found on the property.
Most artists made work from materials from the farm such as "Oratory for Tahora" which was constructed out of chopping blocks from a wood chopping competition and two dead trees by Sen McGlinn and Sonja van Kerkhoff.