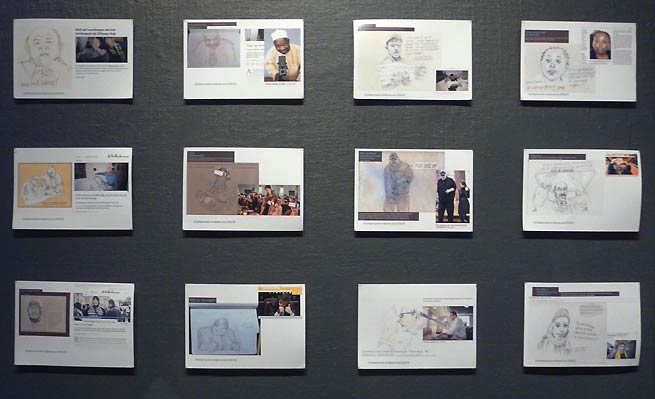 In 2005 Christiaan van Tol started making each morning inspired by a photograph of news of the day. These printouts are selection of one image per month made by Sonja van Kerkhoff.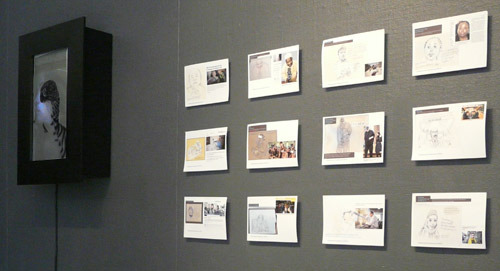 The news items are
in Dutch
Jan: ADO is a Hague professional soccer club owned by the Chinese businessman Hui Wang
Feb: Samuel Willenberg was the last survivor of the Treblinka extermination camp in Poland.
March: Hooligans disturb a Belgium commemoration after the attacks, what connects the Belgian people?
April: Mali photographer, Malick Sibide dies.
May: A virtual reality restaurant in Utrecht has 800 reservations.
June: Christiaan was in Italy and so his news was in a foreign language. He notes that this man is wearing two watches.
July: Reclaiming the land: An Iraqi soldier carries IS home made bom to a truck for transport to be put in storage
Aug: Kim Dotcom's appeal against his extradition from New Zealand is broadcast on the internet.
Sep: Research on bird flu in the Erasmus Medical Centre in Rotterdam
Oct: Europe sells unclean petroleum to Africa. UN environmental rep. June Akumu lobbies for stricter rules.
Nov: Being alarmist is an excuse for doing nothing about the world. A man in his survival boat prepared for the end of the world.
Dec: A girl in Italian depressed town of Sesto San Giovanni states that she didn't know that there had been a referendum because she doesn't have a television.