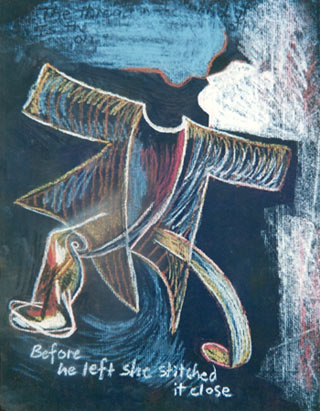 She stitched it close
, 1988/2008.
computer print adapted from a drawing.
Edition of 35.


The thread in the hand of a kind mother
Is the coat on the wanderer's back.

Before he left she stitched it close
In secret fear he would be slow to return.

Meng Chiao


The declining side of evening,
when light is trapped and bleeding,
and swifts' erratic scissors cut the sky
over the darking mangrove flat.
The hills as heavy as skulls.



(lines 1 - 9)

More images from 2008 version.
Background about the poem and the first series in 1987.