mini-symposium
issues of engagement
in digital media artworks
and literature


11 September 2008


9/11 we propose as a day for engagement, diversity and communication. This mini-symposium presents some demonstrations and discussions of works of art which cross the Art-Science divide and touch on these issues.


1 - 3 pm, Lipsius 227, Leiden University



Keynote Speaker: Sarah Kettley (Edinburgh):


Visualising Social Space with Networked Jewellery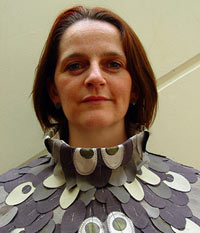 Sarah Kettley with a wearable at the ANAT reSkin media laboratory on wearable technologies, Canberra, 2007.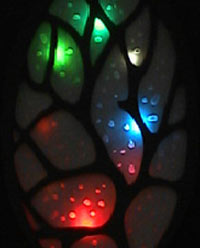 Detail of one of pendents in Speckled Jewellery.

Sarah Kettley will demonstrate and discuss her wearable interactive jewellery objects which are designed to be experientially rich as materials as well as on interactive level.

Ensemble is an interactive collection of networked jewellery with gesturally determined real time musical output.

Speckled Jewellery - an interactive suite reflecting and influencing socialisation was developed for her phD with the Speckled Computing Consortium (www.specknet.org). This work visualizes relationships as coloured lights between differing pendents, worn by five women retired from their professions who meet socially on a regular basis.

Sarah Kettley is an artist researcher working at the intersections of craft and wearable technology, combining academic research with her own interaction design and contemporary jewellery practice. She worked with the Speckled Computing Consortium (www.specknet.org) to realise conceptual designs, and was supported by the Department of Silversmithing & Jewellery at Edinburgh College of Art while working on her PhD.
Currently she is a research fellow at Nottingham Trent University working on the development of designs using stretchable sensors.

Plus short presentations by:


Taco Stolk (Amsterdam): Engaging Art + Science



An illustration of a few of his own projects and student projects.

Taco Stolk is an artist and lecturer in the faculty of Image + Sound at the Hague Conservatory. Since 2000, he has also been initiator and head of the "ExtraFaculty" at the Academy of Art in The Hague. This programme examines the shifting and dissolving boundaries between art and other aspects of society, such as science, business and politics. In addition, he has given courses for the Media Technology Masters programme, Department of Computer Science, University of Leiden since 2001.


Vincent van Gerven Oei (The Hague | Switzerland):
Rules of Engagement





Vincent van Gerven Oei





Lecture + Slideshow from the production Forty Years of Boredom 1968-2008 / Follow Us or Die (2008) by Vincent van Gerven Oei & Jonas Staal, presented in Tent., Rotterdam. Follow Us or Die extends Marxist theorist, Guy Debord's notion of the society of the spectacle into the 'digitalization' of society, based on a 'second life' and the evacuation of all human interaction.

Masters Graduate ArtScience, Hague Conservatory.
PhD student Media Philosophy, European Graduate School, Saas-Fee, Switserland.
Vincent van Gerven Oei is an artist, formerly of the art group EMPATHY™, and currently works in cooperation with Jonas Staal, a writer and translator. Current projects: 'Monument: A Liminal Sociography' for Stroom, Den Haag and a translation of Dick Raaijmakers' treatise 'De methode' ('The Method').




Alex Reuneker (The Hague): Interacting with Literature





Alex Reuneker





A view on literature, interactivity and its relation to issues of immersiveness.

A recent graduate in the Media Technology Masters programme at Leiden University, He lectures in Interactive Media at the Hague University.


Sonja van Kerkhoff (Leiden | Aotearoa/NZ): Touching issues of engagement





Sonja van Kerkhoff





A few interactive and Virtual Reality art projects are introduced and placed in the context of how art works such as these could contribute towards a socially engaged discourse.

A recent graduate in the Media Technology Masters programme at Leiden University, she is an artist, webdesigner and teacher.

Website: www.sonjavank.com





This symposium is organized by Kirsten Korevaar, Alex Reuneker and Sonja van Kerkhoff.