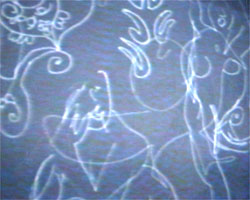 Mythopoeic drawings constantly metamorphasize while a choir sing in medival style. We often think of universals as being what connects us to God or to our soul. Here I focus on the particular or exceptional as a means to form 'stories' or meaning. Images of women dominate these scenes of re-creation.


>> Back to the 1998 article about my work
>> Terug naar het verhaal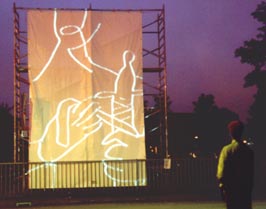 Projection of the video in a north Leiden city park as part of the TamTam multicultural festival, 2001.


Shown


2009    
Dawn Breakers International Film Festival
Boldern Conference & Study Center, Zurich, Switzerland.


2008
Threads of the Day
Leids Wevershuis (Leiden Museum of Weaving), Leiden, The Netherlands.


2001
TamTam Festival
2 week festival located in a Leiden North city park, Leiden, The Netherlands.


2000
Korero korero
Sarjeant Gallery, Whanganui, Aotearoa/New Zealand


1995
Mycelium
Landbouwbelang, Maastricht,
The Netherlands.


1994
Sonja's Choice
Kunstcentrum, Sittard,
The Netherlands.