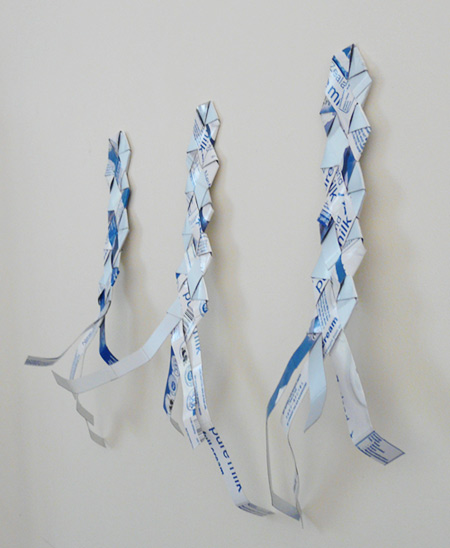 Recently, threats to contaminate milk products were made public in New Zealand. The threats said that "1080" poison (sodium fluoroacetate), which is used by the Department of Conservation to kill opossums, rats and stoats, would be placed in infant formula milk unless the Government stopped the use of 1080 by the end of March 2015. This resulted in the costs and inconvenience of heightened surveillance measures in shops as well as raising the question of consumers' 'trust' in the product.

Although inspired by this incident, this work - a row of 'recycled' ribbons - is more about the relationship between trust and value. The distinctions between a first or second or third prize generally reflect shades of value.

Here, milk packaging, something otherwise worthless, has been woven to symbolize a recognition of three values, none higher or lower than the others.