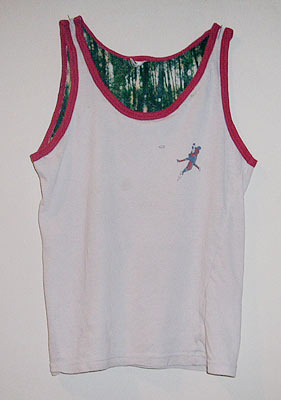 In Children of Tāne there are glimpses of a pine forest within the body of out-grown children's singlets. In France, where this photo was taken, pines are natives and the forests have a naturally evolved ecology of vines, insects and birds. However, on close inspection of the trees, you see birdhouses, which are from another artwork (Strictly for the Birds) by Sonja van Kerkhoff and Sen McGlinn.

Click on the image on the right for a detail of the trees. (60kb)

Most of their work in this show relates to their children.
"The Gesture" consists of nine squares showing a child's torso and hands engaged in making the sign of the cross. These images and the texts on four of them raise questions about what happens or could happen physcially and spiritually when you making a gesture such as the sign of the cross.

Another work, "Small Ones", juxtaposes a child's limb with text.