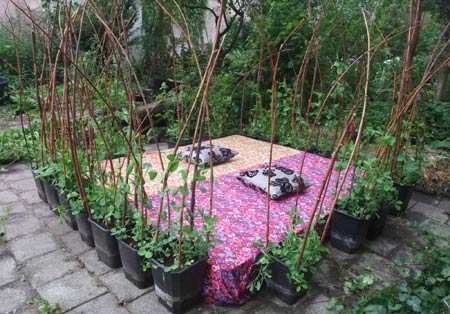 Sweet pea plants and pea plants, double bed, custom made sheets and pillows.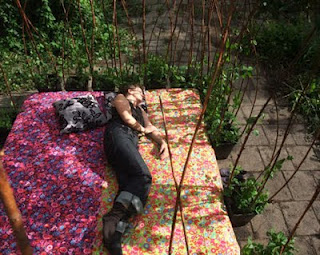 One of 30 artist beds made for the "Open air Hotel" in Utrecht, Leiden + Delft, June-September 2011

Peaseblossom is the name of one of the fairies in Shakepeare's A Midsummer Night's Dream who serves the Queen of the Fairies. This open hotel location is an interpretation of the type of bed she could have made where you can see, smell and taste "pea blossoms" growing through willow branch forms.


Een van de 30-tal kunst-bedden gemaakt voor "OpenluchtHotel"
Utrecht 18/19 June
Leiden 21 June
Delft 10 September

Peaseblossom is de naam van een van de feeen uit Shakespeare's "A midsummer Night's Dream" die de Koningin der Feeen dient. Dit is een interpretatie van het soort bed dat zij had kunnen maken, waarin je de door de wilgentakkenbeelden groeiende (pronk)erwt bloesems kunt zien, ruiken en proeven.