In 1990 while studying for a masters equivalent at the Maastricht School of Visual Arts (De Academie Beeldende Kunsten Maastricht, The Netherlands) I was on the hunt for a space to store my things because while away from art school for three days giving birth to my eldest son, the art tutors took over my studio as their tea room. My things were left lying in the corridor.

While searching around the art school for unused rooms, closets, and drawers, I found a cupboard of video equipment.

A year later I heard that a guest teacher was teaching design students basic editing and I asked to be allowed to join. That would be too complicated for the administration because I was in the art department, not in design, and so this tutor gave me instructions and left me to it. And he helped me many times when I got stuck.

Two years later I traded teaching design students how to work with equipment for access to the equipment and studio, and won the 1995 provincial documentary film prize with my 13 minute short film, Wrapping for a Marginal Citizen.
A quasi-self-portrait of an artist and mother of young children where I use my own art objects as as backdrops or elements to complement the narrative. The children's actions extend the narrative. Two voices: a pessimist and optimist 'converse' as images of eggs played with, being forced into transparent egg-cups, being eaten and being broken merge between images of my art objects being played with by the children. The
"Wrapping,"
a long cloth bearing images of a baby with text directed at the viewer, occurs and reccurs throughout the video, reminding us of the dichotomy of the spectatorship of art.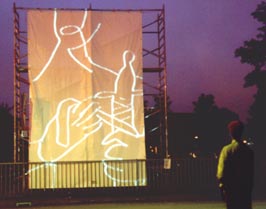 So in a sense I am self taught learning from the opportunity of attending diverse video festivals in the Netherlands, which often offered free master classes on technique. Once I had a bit of knowledge I found filmmakers very willing to engage with me which in turn helped me to broaden my skillset and conceptual approach to the medium.

I find the medium of the moving image a powerful means for not only experimentation for engagement on various levels but very enjoyable because of the added possibilities of motion (time) and sound. I use this medium to experiment with narrative and rhythm as well as making more documentary-oriented films. Usually I make videos where the visuals, sounds and text (narrative) are aimed to engage the viewer primarily as an aesthetic experience.


Essences & Particularities
: Mythopoeic drawings constantly metamorphasize while a choir sing in medival style. Here the particular or exceptional is the means to form 'focus' or meaning. Images of women dominate these scenes of re-creation.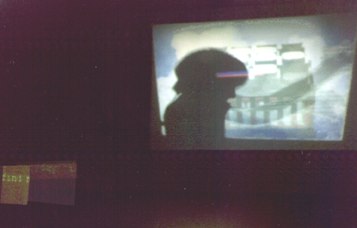 In 1998 I was invited to make a 7 minute something for InterSociety for Electronic Arts (ISEA) symposium in Manchester, U.K. The video/interactive performance Making Salt was a response to their theme "Terror."

I often work collaboratively and invited Gaudi Hoedaya and Sarah Buist to be part of this. For us the terror of the information age, meant the shapeless super-abundance of information itself. Our presention-performance was a metaphor for sifting information.

The performance in the lecture theatre started in darkness with Gaudi and Sarah ushering everyone sit together behind where I was seated midway down, so they could o pass the salt grains handed to them, palm to palm.

The 6 minute video, Grains of Salt, played on a large screeen while I typed texts which appeared in the air above onto small screens that interfered with the video projection at the back of theatre. These texts faded when other texts were typed over them.

Our soundscape were the sounds of suprise and laughter from the audience when they were asked to pass the salt.



Gandhi used 'making salt' as an act of defiance to the British authorities who had monopolised its production and sale in India. He marched to the sea, and made salt.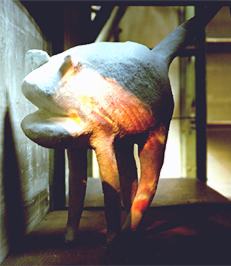 A year later I curated a show in the 19th century archival building of the Hague where the same video, was now projected onto a sculpture in the multi-storey installation, The continuously expanding space, with new a soundscape of texts whispered in Dutch and English.

Watch a 1 min 36 sec excerpt on vimeo.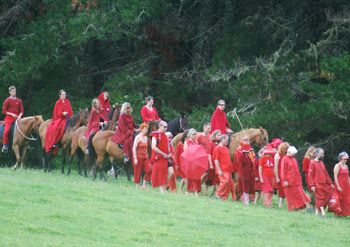 Making videos has also been a way for me to combine music (by friends who are musicians) with my visual work. An example is the video Transit in a green landscape with music by Mark Laurent first shown on a small screen outdoors at SPLORE 2012 as part of Trude Lane's kilometre long intervention, A Walk in Deep Time.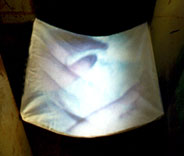 I also use the medium of the moving image in combination with other media. My first video installation was Ablutions (1995) which was a recording of a performance, presented as a projection between 4 pillars.

The 6 minute video edit of a performance shows variations to indicate that this is a process rather than a looped sequence. This distinction is important in this work because the repeated act is to evoke a sense of transcendence rather than a deconstruction or re-presentation of the physical action. I made this piece to express my sense of the spiritual as a Baha'i. Some Baha'is wash before saying their daily prayer just as Muslims do. It is not about cleaning, but more a ritual or preparation for communing with the divine. The video images are from my ´performing´ these ablutions under and towards the camera.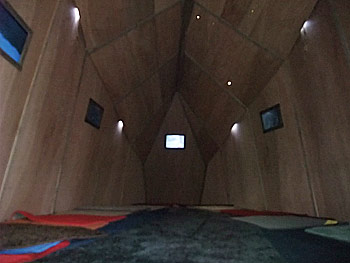 These days I regularly create video installations where video is incorporated into an architectural or sculptural setting such as the five screen work, Kāinga a roto(Home Within) which has been shown in three different settings so far.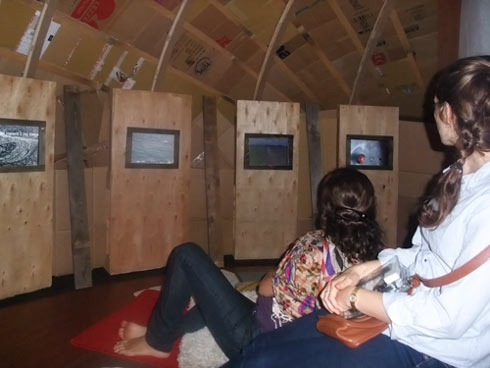 A listing of most videos is here:
sonjavank.com/video.htm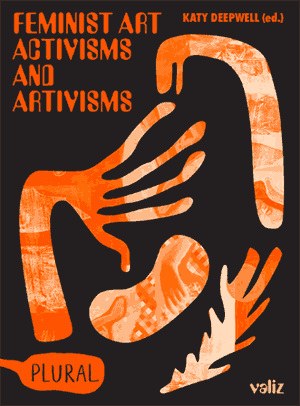 Sonja van Kerkhoff born in 1960 in Taranaki, completed a diploma in Fine Arts at the Otago Polytechnic in 1982, a masters equivalent from the Maastricht Academy of Visual Arts in 1993 and a Masters in Computer Science (Media Technology) from Leiden University in 2008. Since 2017 she has been based in Kawakawa, Northland, Aotearoa | New Zealand and the Hague, The Netherlands.
She is one of the 39 artists, curators, journalists, academics and researchers in the 2020 book "Feminist Art Activisms and Artivisms" edited by
Katy Deepwell (
Professor of Contemporary Art, Theory and Criticism
) at Middlesex University, London.
Published in the Netherlands by Valiz.
View 4 of the pages here
.
Katy Deepwell is the founder and editor of
n.paradoxa: international feminist art journal
.
Contributors:
Linda Aloysius
,
Marissa Begonia
,
Sreyashi Tinni Bhattacharyya
,
Marisa Carnesky
,
Paula Chambers
,
Amy Charlesworth
,
Emma Curd
,
Katy Deepwell
,
Tal Dekel
,
Emma Dick
,
Lior Elefant
,
Christine Eyene
,
Abbe Leigh Fletcher
,
GraceGraceGrace
,
Alana Jelinek
, Sonja van Kerkhoff,
Alexandra Kokoli
,
Elke Krasny
,
Loraine Leeson
,
Laura Malacart
,
Rosy Martin
,
Alice Maude-Roxby
,
Kathleen Mullaniff
,
Louise O'Hare
,
Tanja Ostojic
,
Martina Pachmanová,
Gill Park
,
Pune Parsafar
,
Roxane Permar
,
Anne Robinson
,
Stefanie Seibold
,
Pam Skelton
,
Mare Tralla
,
Christina Vasileiou
,
Camille Melissa Waring
,
Michelle Williams Gamaker
,
Virginia Yiqing Yang
See >>
a 1 min flip through the book on youtube