Dans le jardin des beaux arts
installation of snail forms
by Jacqueline Wassen, Sen McGlinn and Sonja van Kerkhoff
First made as a set of 19 for an exhibition in W-h-anganui, Aotearoa / New Zealand in 2000, these snails have been shown in various locations and combinations.

Click on an image to see that installation / performance.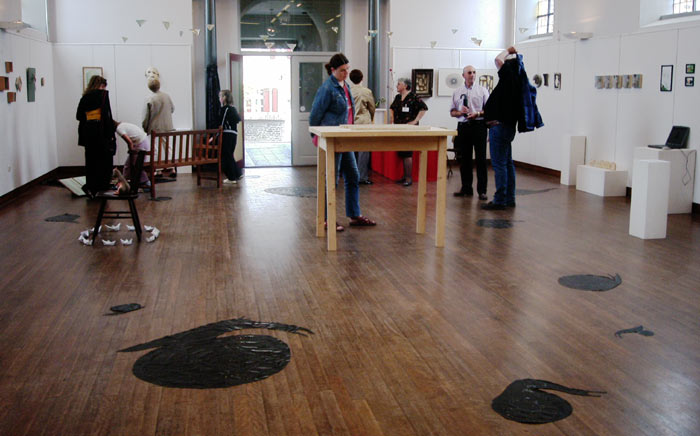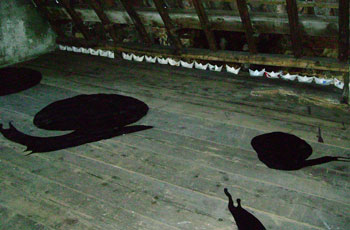 In early 2000, seven year old Tamatea brought home a snail as his pet. Soon he had four snails. Then he set about training them to race, to follow routes and in particular to listen to him. Fascinated by this the three of us chose the snail as our 'character' for the installation, "Dans le jardin des beaux arts". We were looking for a 'character' for texts we wanted to arranged over the floor of a wing in a museum.

We settled on 19 snail forms varying in sizes from 15 cm up to over a metre. Each bore a text arranged in a spiral. The texts alluded to time, perspective, culture and nature. The texts look at these issues from various viewpoints, in an order and tempo chose by the viewer.

On one snail is this story: "The princess received a magic a magic collection of threads and was told that she should pull out a thread whenever she was unhappy. When the thread come out, the unpleasant time would be over. Soon most of the threads were gone and the princess discovered that she had become an old woman."


To a list of the texts on these snail forms