An inland soul at sea, a soundscape
of water-like sounds mixed with music by 4 musicians accompanied translucent boat-like forms, hanging above the viewer. While this work was a starting point - a moment for meditation - there is no particular viewing point. These boats forms can also be seen as suspended islands.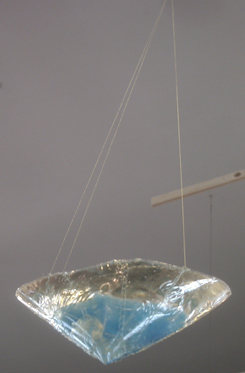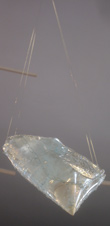 Larger view (39 kb)
Further on are a collection of other 'islands', in the form of snails spread over the floor. Each snail bears text in either English, Dutch or New Zealand Maori alluding to changing times and perspectives, in nature, culture, and the arts.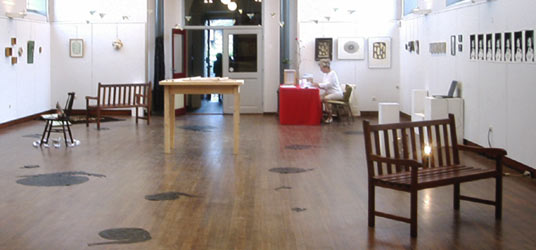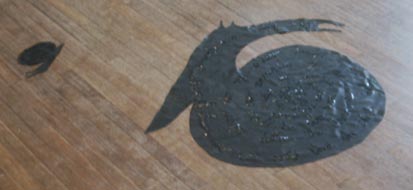 In the garden of Fine Arts.
The princess was given a ball of magic thread The princess received a magic a magic collection of threads and was told that she should pull out a thread whenever she was unhappy. When the thread come out, the unpleasant time would be over. Soon most of the threads were gone and the princess discovered that she had become an old woman."
Other workshops with the snails




I also gave three hour long workshops for primary school classes.

I put the students into groups of two or three and gave them questions to work out in response to the various works in the show.


Later each group gave a short presentation about what they discovered, what they decided in their consultation, and how they would change how that work could be presented.
Fain Would they put out God's light, but God only desireth the light
though the infidels abhour it.


Ablutions (Wassing),
projected from a computer onto a white cube placed in the center of the black plastic covered cabinet. There were viewing openings on three sides.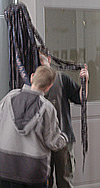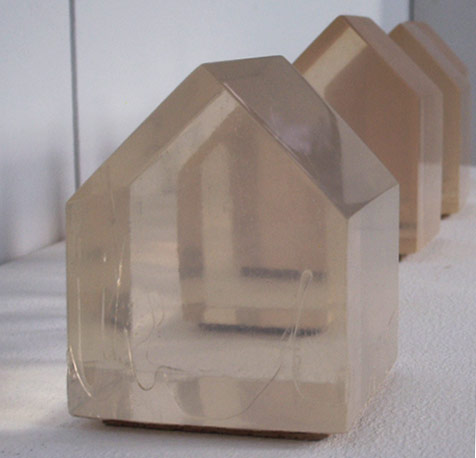 Parable of the Rich Fool
, cast resin house forms and text.