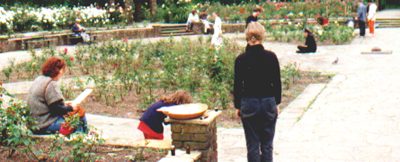 The Living Creature performance during the InterAction
performance festival, The Rosegarden, Southwark Park,
London, U.K.

Foreground to Background: Sarah Buist (in black),
Geeske Harting (seated on path), Sonja van Kerkhoff (in white)
and Wim van Egmond (seated behind Sonja).
EMCO, a London-based performance artist, had the idea to create a festival of performance as part of the annual Bermondsey Carnival in Southwark Park, London, U.K., and invited me to participate.

It evolved into a series of performances and installations by 25 European-based artists in and around the park and the Cafe Gallery over a five-day period in May 1999.

I decided to invite a number of others to work with me because I was interested in creating a sense of 'community' through performance, rather than an act made by one individual.