Galerie Tuinstaal,
48 artists in 30 shops in the Herenstraat
Leiden, The Netherlands
3 - 26 June 2016
georganizeerd door een werkgroep van de Wijklab Tuinstad Staalwijk: Ferry Rigault, Guido Winkler, Iemke van Dijk, Gerard Bakker, Max van der Wijk, Alicia Fernandez-Solla,
Jacqueline Petit + Anouk Hoeksema.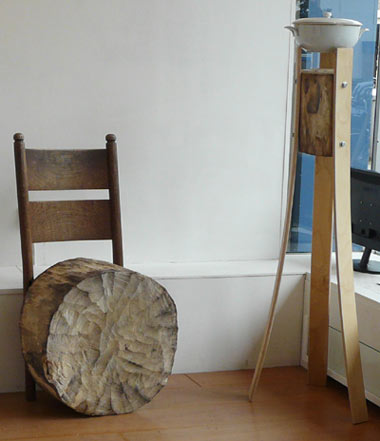 Seat + Holder by
Sen McGlinn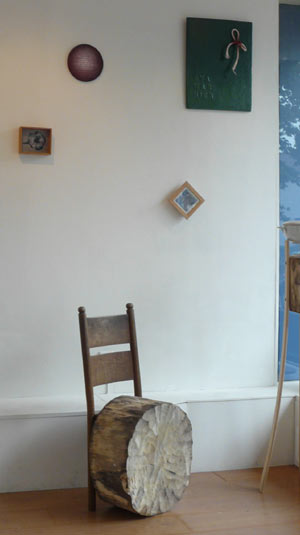 Sculpture by Sen McGlinn
in the Le Petit Port, Herenstraat 9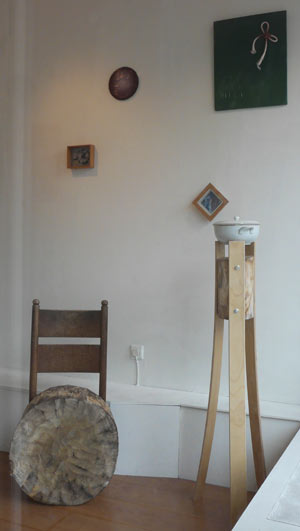 4 small works by Sen + Sonja
Eva was hier (Eve was here)
Een persoonlijke hommage aan de beeldhouwer Eva Esse maar ook over het aanweizigheid van de vrouw in onze geschiedenis (in algemeen en in de tuin van de kunst).
More photos of this work
Grains of Salt
Digitale print met zout (salt) en tekst geschreven door Sen. Het werk gaat over zout (salt) als metafoor voor data. Information is of value, like salt is, but it needs to be extracted and used in moderation.
More photos of this work
What Kind of Idea
Edition of 35, grafiek op dubond + geverfd met acryl + lak. Tekst: The Satanic Verses by Salman Rushdie.
More photos of this work
Virtue of the Rose
ingraveerd tekst in lijst, digitale print Het oud-Engelse woord 'Virtu' stelde een persoonlijke kenmerk voor die aan iemand waarde toekent. De roos wordt vaak gebruikt als symbool van ideale liefde. Die twee ideeen samengevoegd, hebben als het ware de roos gepersonificeerd door woorden op het beeld te plaatsen die horen bij een (wellicht ideaal) mens.
More photos of this work