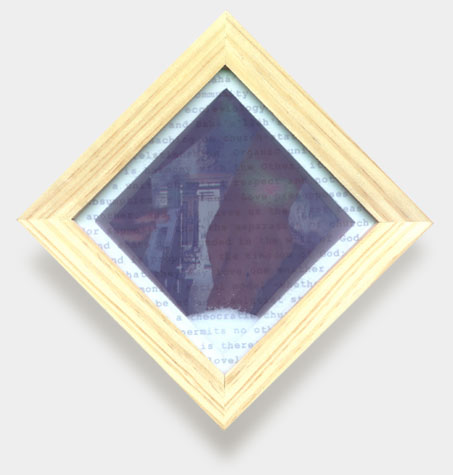 Computer print on plastic, salt, frame. 20 x 20 x 5 cm.
Shown


2016    
Galerie Tuinstaal   Leiden, The Netherlands


2006    
<!a href="threads.htm#parking">Cafe Gallery Open<!a>   Southwark Park, London, U.K.


2003
"Q for Quartair"   Group exhibition, 113 Noordeinde, The Hague, The Netherlands.


2001
"Hotels"   group show, organized by ALUMNI ABK Maastricht, Maastricht.


2000
Korero Korero   Telling Stories, Exhibition with Sarah Buist Sargeant Gallery | Te Whare o Rehua, W(h)anganui, New Zealand.


1999
"Diversity"   group show, Galleria Halvare, Oulu, Finland.