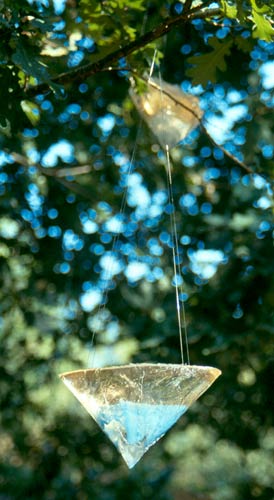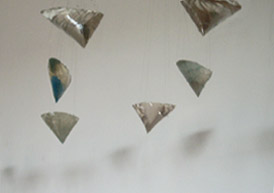 The seven minute soundscape that accompanies these hanging forms, incorporates music by Ben Koen & Joe Fiedler (from the "Reliance" cd) (U.S.A.), and by Brenda Liddiard and Mark Laurent (from their "Stations of the Cross" cd) (New Zealand).


The phrase "an inland soul at sea" comes from a poem by the American Emily Dickinson.

19 boat-like forms suspended in crocheted nets hang like a fleet of floating forms. Each 'boat-form' is a differing shade of translucence and is prism-like, bending and distorting the light. When hung inside they are lit from underneath so shadows are created on the walls and ceiling.

The materials are nylon cord (length about 2 metres) and cast resin forms (each is about 50 cm in the longest dimension and each weighs about 200 grams.